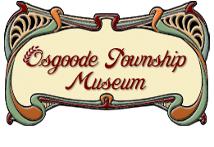 7814 Lawrence St. Vernon Ont.
The Osgoode Township Museum is the primary centre for the interpretation of Osgoode Township history. The museum's exhibits present an overview of the varying aspects of the Township, its role throughout history and the distinct agricultural lifestyle which contributed to the development of the Township, from 1827 to the present day.
Open Tuesday through Saturday from 9 am to 5 pm
Come out and help us plant, weed and enjoy the harvest from the garden in front of the museum.  The garden group meets every Wednesday morning to work in the garden and enjoy coffee etc. and talk about gardening.